My First Sheik Book! by Melanie Milburne + Giveaway
by Melanie Milburne, author of Sheikh's Baby Bombshell (part of the Royal Baby Collection ebooks, Harlequin Presents)
A few years ago, in Melbourne at the Romance Writers of Australia convention, I remember saying to a group of my writing colleagues that I didn't see myself ever writing a Sheik novel. I had read a few over the years and enjoyed them but they weren't really my particular romantic fantasy. I love my Italian heroes, I've been reading them since I was seventeen so they would always come first in my writing, although I've flirted with a couple of Greeks and a Spaniard, and I'm keen to do an Argentinian, Chilean or Brazilian one as I have so many lovely fans in South America.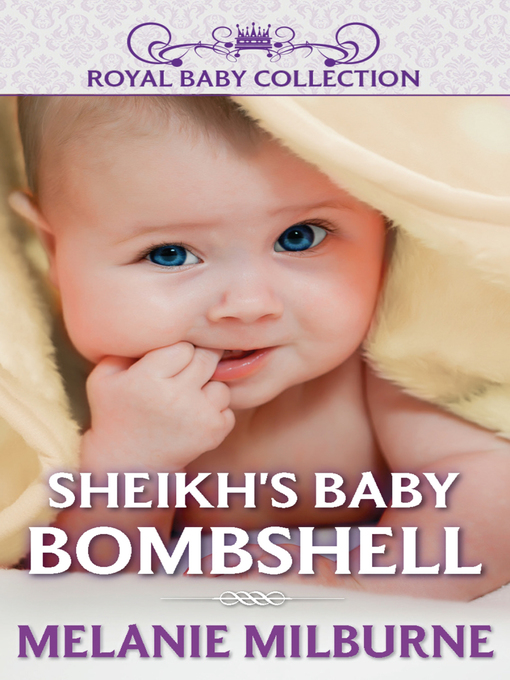 But then a reader asked me if I would write a Sheik book and I got thinking… why not?  I had just written my 51st book so a chance to do something a little different was certainly tempting. And then my editor asked me to do a Royal Baby book to celebrate The Duke and Duchess of Cambridge's baby due in July, and to link it to my Presents trilogy — Those Scandalous Caffarellis.
A perfect chance to put fingers to keyboard and see what happened…
Two lonely people — a one — night stand — an unexpected outcome.
Crown Prince Talib Firas Muhtadi is travelling incognito before the strait jacket of duty falls upon his shoulders back home in the ancient and ultraconservative desert province of Dharbiri. He has one last night in London to do whatever he wants…
Abby Wright has got through the emotional ordeal of seeing her childhood sweetheart marry another woman and has ended up in a bar in London looking for a way to forget about her heartbreak.
   She suddenly realized she was staring at his mouth. 'Um… can I buy you a drink?' Did I just say that?

His mouth tilted up at the corners. 'Do you know no one has ever asked me that before?'

'No?'

'No.' His gaze slipped to her mouth. 'Which kind of makes me wonder if I should say yes, just for the novelty of it.'

Abby's breath moved against her throat like butterfly's wings as that dark gaze reengaged with hers. 'I have to tell you I can't afford French Champagne, It's not quite in my budget range. I've never even tasted it. Not the real stuff, I mean.'

His eyes glinted with something that looked suspiciously like amusement. 'Are you usually this honest with people you've only just met?'

Abby bit her lip again. 'I know… it's totally pathetic. It's because deep down I'm really rather shy. I overcompensate when I'm feeling nervous and out of my depth. I talk too much. It just comes tumbling out and once I start I can't stop because I hate those really awkward silences when no one says anything and you don't know if people like you or – ' she gave a little gulp as his index finger came towards her lips like someone reaching for the mute button, '-nofftt.'

His slow smile was dangerously attractive. 'I like you, Miss Naïve, so you can stop fretting and relax.'

'It's Wright.' She offered him her hand with a bashful smile. 'Abigail- Abby for short- Wright.'

His fingers closed like a warm firm cage around hers. 'I'm very pleased to meet you, Miss Wright.'
 Abby is a sweet ingenuous girl who is totally out of her depth from the moment she meets the uber worldly Talib. But her total lack of guile is what captivates him and he is left feeling strangely empty when she disappears from his hotel suite without even saying goodbye after their one night of fiery passion.
But their one-night stand has an unexpected consequence and Abby turns up outside the walls of the palace of Dharbiri on the eve of the much-anticipated announcement of Talib's royal engagement.
But then he sees her in the crowd outside the palace gates and sends an aide to whisk her away to his private oasis…
  His frown brought his brows together. 'It is very dangerous for you to be here. I am breaking ancient cultural mores by allowing you access to my private resort Only royal family and dignitaries are allowed here.'

Abby took affront at his cool and distant manner. 'You're the one who had me brought here by the Ali Babar lookalike. I was just another tourist until he whisked me away. I didn't know if I were being kidnapped or used a hostage. I was scared out of my wits.'

'I'm sorry for the inconvenience but no one must know you are here. No one. Do you understand?'

Abby felt like her smartphone in her tote bag was flashing, "I just tweeted!" as she surreptitiously covered it with her hand. 'Right. Got that.'
I thoroughly enjoyed writing this novella; in fact, I enjoyed it so much I have another Sheik book (a 50,000 word one) already planned! I hope you enjoy my journey into the wild untamed desert sands of Dharbiri with Talib and Abby. Watch out in November when Book Three of The Scandalous Caffarellis takes you back out into the desert when Remy and Angelique lock horns in Never Gamble With a Caffarelli.
 I will send a signed copy of my latest Presents release His Final Bargain as well as my most recent Medical title Their Most Forbidden Fling to a comment posted about a night in your life you will never forget.
Happy reading.
Melanie Milburne