Twitter Chat with Sicily's Corretti Dynasty Authors on April 23!
by Amy Wilkins, Harlequin Digital
On Tuesday, April 23, we'll be celebrating the launch of Harlequin Presents's new 8 book continuity series Sicily's Corretti Dynasty with a live Twitter chat! If you love scandals, epic family tales, passionate romance and Italian heroes
(who doesn't? 😉 ), this is the series for you. All 8 authors will be joining us live to talk about the series and their books, plus answer your questions!
The chat will begin at 10am EST (see the image below for more time zones). Be sure to follow the hashtag #HarlequinPresents and @HarlequinBooks so you don't miss a single tweet. Hope to see you there! 🙂
About the Sicily's Corretti Dynasty series:
The more powerful the family…the darker the secrets!
Harlequin Presents® introduces the Correttis; Sicily's most scandalous family!
The Empire
Young, rich and notoriously handsome, the Correttis' legendary exploits regularly feature in Sicily's tabloid pages!
The Scandal
But how long can their reputations withstand the glaring heat of the spotlight before their family's secrets are exposed?
The Legacy
Once nearly destroyed by the secrets cloaking their thirst for power, the new generation of Correttis are riding high again—and no disgrace or scandal will stand in their way…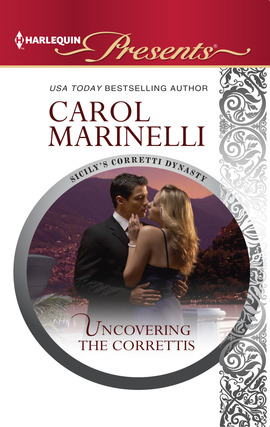 Books in order:
by Carol Marinelli (FREE ebook prequel, available now)
A LEGACY OF SECRETS by Carol Marinelli (May)
AN INVITATION TO SIN by Sarah Morgan (June)
A SHADOW OF GUILT by Abby Green (July)
AN INHERITANCE OF SHAME by Kate Hewitt (August)
A WHISPER OF DISGRACE by Sharon Kendrick (September)
A FACADE TO SHATTER by Lynn Raye Harris (October)
A SCANDAL IN THE HEADLINES by Caitlin Crews (November)
A HUNGER FOR THE FORBIDDEN by Maisey Yates (December)