The Fantasy & Inspiration Behind "Untouched by His Diamonds" by Lucy Ellis
by Lucy Ellis, author of Untouched by His Diamonds (Harlequin Presents Extra, October 2012)
Untouched by His Diamonds is the second book I wrote for Harlequin Presents – and I'm a few more along now – but it remains my personal favourite.
The story opens in a shoe shop on St Petersburg's famous Nevsky Prospekt where Australian Clementine Chevalier is trying on a pair of boots to take home as a memento of her working holiday in the Russian city.  She is being watched and Clementine, being the girl she is, can't help putting on a bit of a show.  The stranger turning out to be a gorgeous six foot seven inch Russian fight promoter is pure Harlequin Presents icing on the cake!
He was so male as to be another species.

Big shoulders, big arms, hard thighs, long and lean and coming at her.

He'd crunched bones for her, broken skin, shed blood.

"Come on, get in, I'll take you wherever you want to go."  He spoke abruptly, his voice deep and deliberate.

She just sat there, looking up, trying to clamber over the overwhelmed feeling to something more considered.

He lifted those big hands of his.  "I'm a good guy, I don't wish you any harm.  You need some help, yes?"

"Yes," Clementine said softly, distracted by the intensity of his green eyes.

"Are you staying far from here?"

Clementine knew she should tell him nothing and refuse the ride.  But he had helped her.  He had put himself at risk for a stranger.  This was a good guy.  This was a very, very sexy man.  This would buy a little more time with him.  And she was so tired of looking after herself.  It wouldn't hurt to accept a lift.

"Do you know where the Australian embassy is?"

"I'll find it."

And she believed he would.
Serge Marinov likes his women to have long legs, short skirts, and plenty of free time to fit in with his busy working schedule.  Clementine has long legs and a history of too often finding herself the arm candy of guys like Serge, wealthy, powerful men who see young women like Clementine as a good time worth having and not much else.
But Clementine takes a chance on Serge which sees her being whisked off to New York and using her intelligence and job-smarts to force this sexist Neanderthal to meet her half way.
As with all my stories I look to film for inspiration.
I drew on The Thomas Crown Affair, notably the scene where Steve McQueen and Faye Dunaway are sitting on the deck of his unfinished beach house, and she knows about the other women in his life, and he's got that look on his face waiting to see which way this is going to go.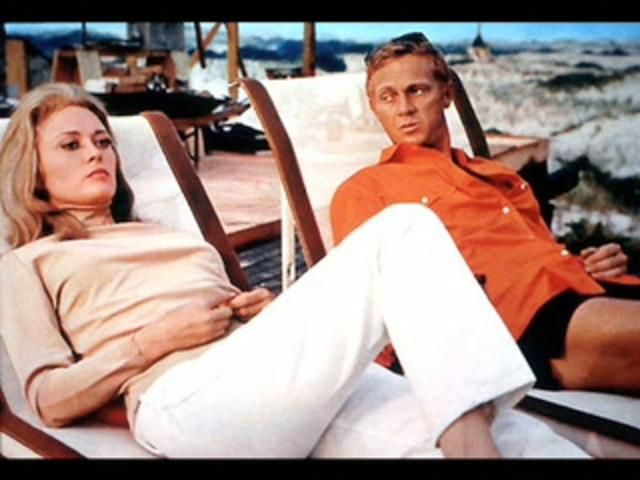 There is an edgy, unspoken hostility I borrowed for Serge and Clem's relationship, two powerfully
attracted people playing a dangerous game they both suspect will end badly, neither sure of the other…
Or as Serge puts it,
 She batted those lashes more slowly.  'You're not sure of me, Slugger?'

'Clementine, I have a feeling no man has ever been sure of you.'
But it was a true-life experience I drew on for the opening scene in Untouched By His Diamonds, the fantasy of being observed by an admiring stranger as you perform the harmless but intimate act of trying on a pair of boots.
Do you have any favourite fantasies that have turned up in your real life?