The Desert Brothers Duo – Double the Sheikhs. Twice the Fun! (And a WeeTouch of Silver to Boot!)
by Trish Morey, author of the Desert Brothers duo: Duty and the Beast (September 2012) and (October 2012)
It's no secret I adore a good sheikh romance – there's just something about those golden shifting desert sands and a blazing hot sun with blazing hot emotions to match, and all set in a colourful exotic location. Add a devastatingly hot sheikh and a feisty heroine to the mix  and what's not to love?
Great product. I do switch this probiotic with another brand just to keep my tummy from getting used to one product. Like this one the best. It can help many men who have erectile dysfunction get and keep an erection when they become sexually stimulated.
But I have to admit, there's one thing I even better.
A hot sheikh romance duo!
September and October mark the release of my own searingly hot sheikh duo –
Desert Brothers – Bound by duty, undone by passion!
These sheikhs may not be bound by blood,
but they are united by the code of the desert.
 Their power and determination is legendary and unchallenged –
until two beautiful Jemeyan princesses threaten their self-control…
In Duty and the Beast Zoltan must tame Aisha, his defiant princess, to claim his crown. He assumes Aisha to be just as spoilt and clearly just as easy a conquest as her  wild-child sister, Marina. He assumes wrong on both counts. (I do love it when heroines turn the hero's assumptions on
their head:)
While in , infamous billionaire Bahir Al-Qadir risks it all in a high-stakes game of love. He remembers Marina as a party loving princess, carefree and reckless, and surely there's plenty of proof for still thinking that, – after all, she has abandoned her responsibilities and has two children by two different fathers. But there's a lot more history to this princess than Bahir realises – and a not insignificant part of it involves him.
At the risk of making this the longest I Heart Presents blog ever, I'm going to include an excerpt from each of these books, the first from the opening chapter, when Zoltan arrives to "liberate" Aisha from the clutches of her kidnapper–
Opening from Duty and The Beast:
They came for her in the dead of night, while the camp was silent but for the rustle of palm leaves on the cool night air and the snort of camels dreaming of desert caravans long since traveled. She was not afraid when she heard the zip of the blade through the wall of the tent. She was not even afraid when a man dressed all in black, his face covered by a mask tied behind his head and with only slits for his eyes stepped inside, even though his height and the width of his shoulders were enough to steal her breath away and cause her pulse to trip.

Instead it was relief that flooded her veins and brought her close to tears, relief that the rescue she had prayed and hoped so desperately for had finally arrived.

'I knew you would come for me,' she whispered as she slid fully dressed out of bed to meet him, almost tripping over her slippers in her rush to get away. She swallowed back on a sob, knowing what she was escaping, knowing how close she had come. But at last she would be safe. There was no need to be afraid.

But when when the hand clamped hard over her mouth to silence her and she felt herself pulled roughly against his hard muscular body, there was no denying her sudden jag of fear.

'Do not utter another word, Princess,' the man hissed into her ear as he dipped his head to hers, 'or it may be your last.'

She stiffened even she accepted the indignity for she had been raised to accept no stranger's touch. But then she had little choice now, with his arm like a steel band around her waist, the fingers of one large hand splayed from her chest to her belly, and the palm of his other hand plastered hard across her mouth so that she could all but taste his heated flesh.

Unnecessarily close.

Unnecessarily possessive.

And every breath she took contained his scent, a blend of horseflesh and leather, of shifting sands and desert air and all laced with a warm, musky scent that wormed its way into all the places he touched her and beyond, until those places burned with heat, until unnecessarily possessive became unnecessarily intimate, and some innate sense of survival pounded out a message in her heartbeat, warning her that perhaps she was not as safe as she had hoped…
I wonder if she's right:-)) I guess you'll have to read it to find out.
And here's the excerpt from chapter three of :
He watched her from his doorway, where he had been standing for more than an hour watching the storm boil and simmer away. At first he had not heard her, whatever sound she made whipped away by the wind or lost under the crash of the sea, but then he had caught a movement in the corner of his eye, a vision of a woman in a long white nightgown. But not just any woman. Marina. A ghost from his past, moving across the terrace with bare arms and bare feet while her black hair followed, untamed, blowing riotous and free.

And he watched and grew hard as the nightdress was plastered against her body by the wild wind and the rain, against her lush breasts and the slight swell of her belly, against the sweet curve of her mound. Plastered hard against all the places he remembered and plastered so close that she might not have been wearing anything at all.

The wind tore at her gown, peeling the fabric high around her legs, and he grew still harder wondering if she still never wore anything under her night gown.

He growled. Why would she wear a white nightgown? So very virginal and innocent.

Who was she trying to kid?

She was nowhere near a virgin. She was a sorceress. She was wanton in bed, hungry and insatiable.  She was sinuous and lithe and moved and twisted with a dancer's grace and he knew he should go. He should leave now, while he had the chance, before he was tempted to do something he might regret.

But he could not force his feet to move. He could not turn away. Instead he stayed and watched while she was hit by the spray of a wave crashing below; watched while she flung her arms out wide and laughed as brazenly as the weather, watched while her damp white gown turned transparent and he knew that he had no choice.
Knew he had to go to her.
Don't you just love a hero who knows what he has to do – even if it's the last thing he wants to?
I had great fun writing these stories. It's always fun creating a world for a stand-alone title, but when it's for stories that are linked, then that world can be expanded, details added and built upon with each separate story. And characters who play a minor part in one story can take centre stage in the next. The individual stories still have to stand by themselves, but I think it allows for bigger, richer, more complex stories to be developed and delivered to the reader and as an author it's just so much fun to splash paint around on this bigger canvas.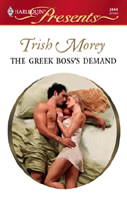 But there's another reason I'm totally chuffed to see this duo's release – and that's because  The Sheikh's Last Gamble is my 25th published title with Harlequin/Mills & Boon. 25!! I find that amazing. It seems like yesterday that I first sold and received my first author copies and held my first published book, The Greek Boss's Demand, in my hands, and yet here I am with book #25 on the shelves.
It's both a thrill and an honour to reach this milestone. Thanks to all of my readers for making it possible!
And if I can leave you with one question, do you like linked stories, and if so, what do you like about them? I'd love to hear your thoughts.
Trish
xxx