The Santina Crown: Q&A with Caitlin Crews and Excerpt!
Caitlin Crews is the latest author to sit down for our Santina Crown series Q&A! Her novel The Man Behind the Scars (#4 of The Santina Crown) is on sale in August 2012. For more about the miniseries, check out the Santina "tabloid" pages or click The Santina Crown series tag at the bottom of this post to read more blog post and past author interviews. ~Amy
* * *
Who is more scandalous – the Jacksons or the Santinas?
The Jacksons are a bit more splashed-across-the-tabloids scandalous, aren't they, while the Santinas seem a bit more whispered-about-in-appalled-tones scandalous.  So I think your mileage may vary, depending on which you find more shameful!
Mirror, mirror, on the wall, who is the sexiest hero of them all?
Rafe, of course.  He's just so tortured and delicious!
What secret would make the most shocking tabloid headlines about Rafe and Angel?
That would be telling!
Where does Rafe take Angel for their one year anniversary?
Rafe would no doubt think it would be delightful to simply hunker down at the Scottish estate and enjoy a lovely day in the newly-rebuilt wing of the manor house.  I feel certain Angel would have alternate plans.  Like Paris.
 Scandal! Magazine just can't wait to hear about your writing process, can you talk us through your daily routine?
I wake up, enjoy copious amounts of tea, read every single thing on the internet, and then set about writing my daily words.  Some days this is easier than others, but it's always so much fun to finish another book!
What do you think makes a good hero and heroine?
I'm always fascinated by the way their surface conflicts tear them apart even while there is something at the core of each of them that recognizes the other and feels recognized by the other.  I love it when they figure out a way to fight for each other, even when all seems lost.  That's what love is, isn't it?
Did you have a favorite character in your story The Man Behind the Scars?
 I just adored Angel.  She was so brave and smart and determined to hide all the ways she'd been hurt.  I never knew what was going to come out of her mouth next!
What is it that you love
most about writing your stories?
I love everything about writing these stories.  Digging deep into the characters, exploring their worlds, figuring out how to work through their issues.  I find people fascinating, especially larger-than-life people who have all the same emotions we do, but sort them out in castles and on private islands and in exclusive, celebrity-laden little slices of paradise around the globe.  And if there is anything more satisfying than writing a happy ending, I don't know what it is!
What projects are you working on at the moment?
I just finished a book about a Cinderella story–five years after the fairy tale wedding–featuring an Australian winemaker and her sexy sheikh.  Next up I have a women's fiction to write, which should, if it all works out, deal with the ways in which women fail to stand up for themselves in their own lives.  Never a dull moment!
We know it's tricky, but what is your favorite book of all time?
I wouldn't have the slightest idea where to start answering this question…  I love so many books!  Here are a few of my favorite category romances of all time: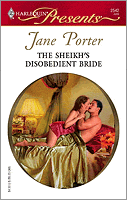 The Price of a Bride by Michelle Reid
The Spanish Groom by Lynne Graham
The Sheikh's Disobedient Bride by Jane Porter
The Male Chauvinist by Alexandra Sellers
Summer Games by Elizabeth Lowell
* * *
An Excerpt from The Man Behind the Scars:
Looking around, she also automatically excluded any men with women already hanging off of them, or even standing too close to them, as she didn't have the time or inclination to compete, and anyway, she wasn't at all interested in someone else's husband.
She might have descended to following in her mother's footsteps and becoming a shameless gold digger, she thought piously, but she did have some standards.
She took care to avoid any of the Jackson family, Chantelle and Izzy included—or perhaps especially—as she moved through the crowd. Those she was particularly close to—like the bride-to-be Allegra herself or Ben, the eldest Jackson sibling and as close to a big brother as Angel was likely to get—she was determined to avoid at all costs.
She couldn't handle any sort of show of concern, not from the people she actually considered near enough to family. She didn't want either of them to ask her how she was doing, because she might accidentally let the awful truth slip out in all its ugliness, and that would hardly put her in the right frame of mind to catch a husband, would it?
Not that she had any idea what frame of mind that was meant to be, she thought wryly, slipping behind another pillar to avoid a tight scrum of what, to her untrained eye, looked like a pack of highly disapproving priests. Or possibly bankers.
And that was when she saw him.
He was lurking—there was no better word for it—almost in the shadows of the next pillar, all by himself, presenting Angel with a view of his commanding profile. He was…magnificent. That was also the best word for it. For him. She paused for a moment, letting her eyes travel all over him.
His shoulders were wide and strong, and his torso looked like packed steel beneath a suit that should have been elegant, but on his lean, rugged frame was instead…something else. Something that whispered of great power, ruthlessly and not altogether seamlessly contained. He stood with his feet apart and his hands thrust into the pockets of his trousers, and she got the impression that there was something almost belligerent in that stance, something profoundly dangerous.
Every hair on her body seemed to stand on end.
There was just something about him, Angel thought unsteadily as another kind of thunder seemed to roll through her then, making her breath seem harder to catch than it should have been.
She couldn't seem to look away. Maybe it was his thick dark hair, too long to be strictly correct and at distinct and intriguing odds with the conservative suit he wore. Maybe it was the brooding, considering way he looked out over the ballroom, as if he saw nothing at all to catch his interest, nothing to combat whatever it was he carried inside of him, like a deep shadow within yet almost visible to the naked eye. Maybe it was that lean jaw, and the grim mouth that Angel suddenly felt was some kind of challenge, though she couldn't have said why.
Whatever else this man was, she thought then, anticipation and adrenaline coursing through her, making her whole body seem to hum into alert-ness, he was a candidate. She moved toward him, pleased to note that the closer she got, the more impressive he was. There was a certain watchful stillness to him that she felt like an echo beneath her ribs. She wasn't at all surprised when he turned his head to pin her with a cold, dark stare while she
was still several feet away—and she got the sudden and distinct impression that he'd sensed her approach from the start, from the moment she'd laid eyes on him. As if he was preternaturally aware of everything that happened around him.
For a moment, she saw nothing but that stare.
Cold gray eyes, the most remote she'd ever seen, and darker than anyone's ought to be. He seemed to see into her, through her, as if she was entirely transparent. As if she was made of some insubstantial bit of glass. As if he could read her desperation, her dreams, her plans and her flimsy hopes, in a single, searing glance. She felt it, him, everywhere.
She blinked—and then she saw his scars.
A wide, devastating set of once angry, now simply brutal scars swiped across the whole left side of his face, raking him from temple to chin, sparing his eye but ravaging the rest of the side of his face and carrying on to loop under his hard, masculine chin. She sucked in a shocked breath, but she didn't stop walking. She couldn't, somehow, as if he compelled her. As if he had already pulled her in and she was only bowing to the inevitable.
 * * *
 Available in August 2012 from Harlequin Presents®.  Copyright © 2012 by Megan Crane