Sarah Morgan asks 'Do Opposites Attract?' + Contest
by Sarah Morgan, author of Doukakis's Apprentice (Harlequin Presents, October 2011)

My husband – let's call him Mr Cool – is the complete opposite of me. He is calm and controlled. He's especially good in a crisis, which is helpful because I ricochet from one crisis to another while he watches in quiet disbelief. I'm neither cool nor calm (I see my editor nodding wearily in agreement) and we're probably an example of the theory that opposites attract. Mr Cool is mildly fascinated by my dramatic response to life and I'm soothed by his rock solid calm.  In many ways we're not unlike the couple in my latest release, Doukakis's Apprentice.
In his working life, Greek tycoon Damon Doukakis is ruthlessly organized and devoid of emotion. He sees no place for anything personal in the workplace and he is driven and focused. Polly, on the other hand, needs a certain amount of chaos around her to feed her creative process and she operates most effectively when she is surrounded by familiar objects. She is technology literate, but does her best work scribbling in a pink notebook with her fluffy pen. He wears designer suits, she wears vintage clothes. She loves hot pink tights – he thinks they make her look like a flamingo. When he takes over her father's company and forces her to work as his apprentice, it's hard to know which of them has the biggest culture shock. Trouble is on its way….
Doukakis's Apprentice is my first proper 'office' romance and I enjoyed writing it so much I know it won't be my last. It's an RT Book Reviews Top Pick and was described as 'a really fun book' by Sarah Wendell in a recent Smart Bitches/Dear Author podcast.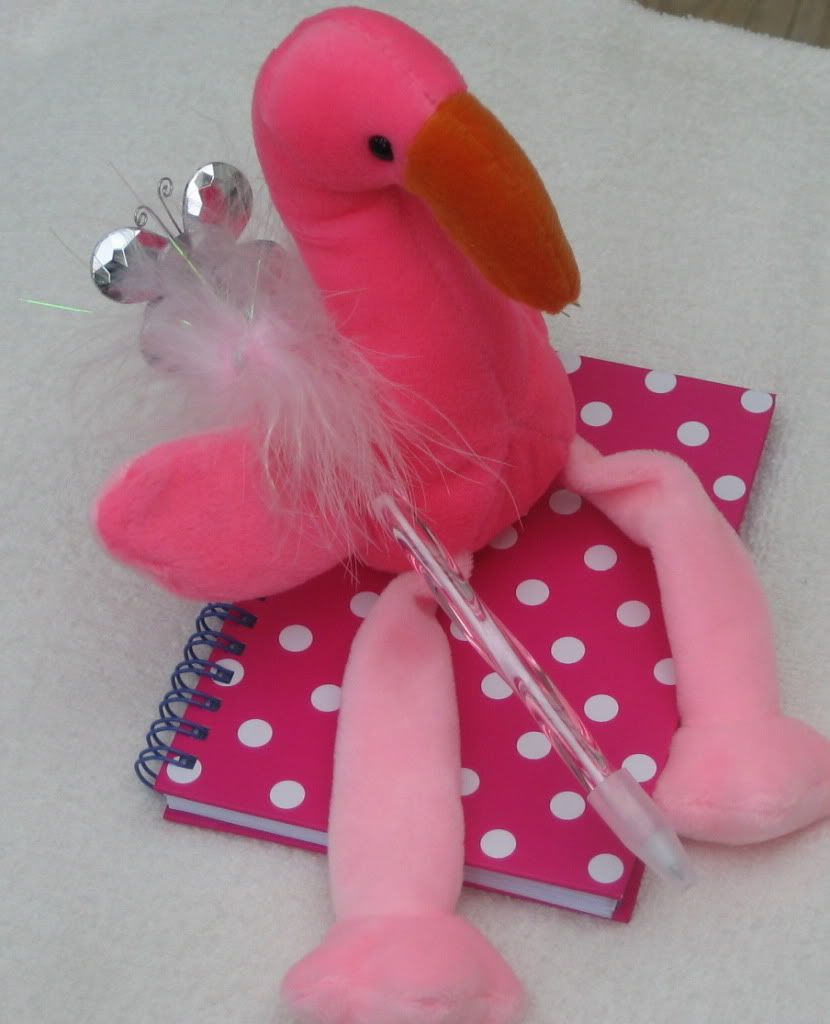 To celebrate the US launch I'm doing a giveaway for readers in the US and Canada. Leave a comment for a chance to win a version of Polly's pink fluffy pen and notebook, a cute cuddly flamingo and a copy of a book from my backlist. The giveaway closes at 5pm EST on September 21st. The winner will be randomly drawn by Harlequin and the name announced in the comments section within 24 hours so if you entered, be sure to check back. If you're the lucky one then you'll need to email me your details to sarah @ sarahmorgan . com (take out the spaces) within 48 hours of the announcement. As this giveaway is being run on a Harlequin site it is only open to people in US and Canada. Full competition rules are here.  To be entered, just put the word 'giveaway' at the end of your comment.
So, do you have examples of 'opposites attract' in your life or do you think relationships are smoother when people are similar?
Sarah
xx