Author Kate Walker on Her New Voices Writing Contest Workshop Experience
Mills and Boon launched this year's New Voices Writing Competition last week at www.romanceisnotdead.com, and once again M&B is hosting a series of writing workshops with published authors. Presents author Kate Walker led one of the first on August 31 and, being the pest that I am, begged Kate for a blog about the experience. And Kate, being the awesome that she is, agreed 🙂
Kate will also be blogging in a few weeks about her October Harlequin Presents Extra release, The Return of The Stranger.
~Amy

by author Kate Walker, author of The Return of The Stranger (October Harlequin Presents Extra) and
I love doing workshops. I always enjoy talking about writing and books and how to get the best story told in the best possible way. I specially enjoy talking to 'New Authors' – those who are not yet published but who are aiming to get there if they possibly can – those who have had several attempts, been knocked down by rejection but are determined to get on their feet again, or those who have never yet tried to write a romance but have always wanted to do so and now want to learn all they can about this very specialized genre and style of writing.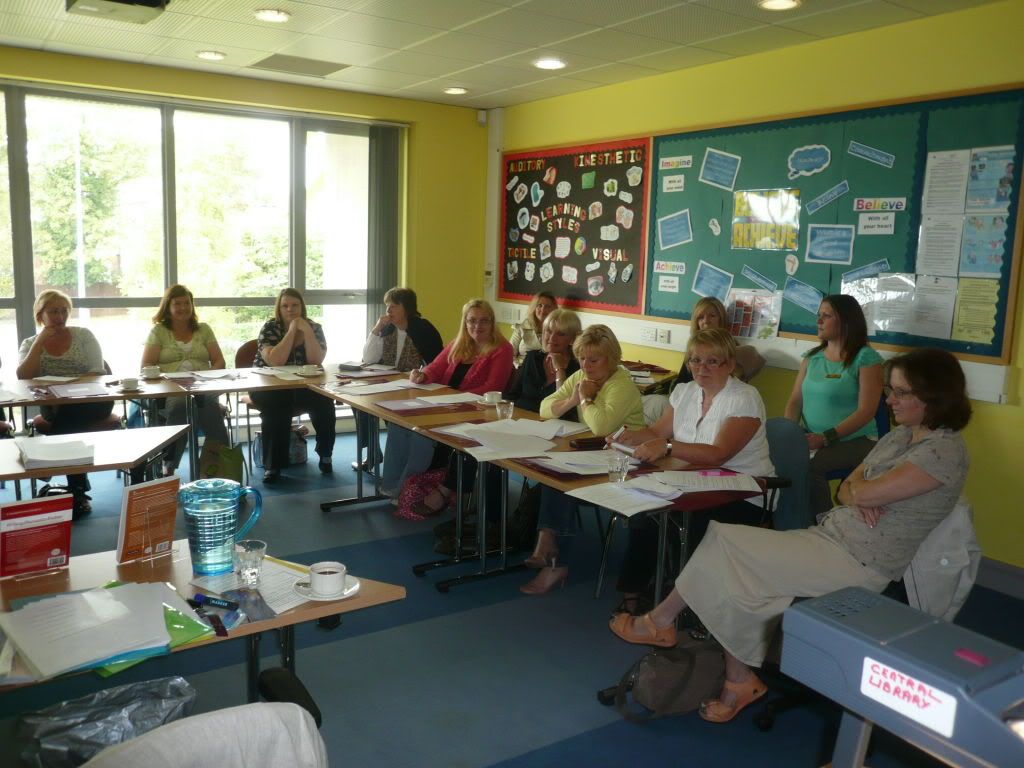 Doing workshops for Harlequin Mills & Boon has taken me all over the country, to Hull, Nottingham, Guildford, Doncaster, Derby . . . and that's before I consider the workshop I did last week for this year's great New Voices contest. This one was in Ashby, North Lincolnshire which was almost like coming home for me because it took me back to North Lincolnshire Libraries who were my employers for four years before I ever started trying to write professionally. I worked as a Children's Librarian for the county when I was first married and I ran the children's libraries, reading contests and library clubs in all the small branch libraries around the area. Ashby Library was one of those – but not in this same building. The library I worked in was small and old-fashioned, the one where the workshop was held was a new, purpose built building, with luxuries like lifts and air conditioning – things I could only dream of as a librarian. (Well, I have been published for over 25 years.)
But going back to the library was really rather special. As well as reminding me of how far I've come – those 25+ years, 60 titles accepted, three editions of the 12 Point Guide to Writing Romance sold out and a new one now on Kindle – it served as a really great example to all the people who signed up for the workshop that dreams really do come true. Every single successful author published by Harlequin Mills & Boon was once in the position of everyone attending that workshop that morning. We all started out with no books published record, with a lot of hope and determination and a plan to work hard to see if we could get a book accepted and our name on the title page. It showed that you don't have to have lots of connections, money or networks to succeed if you have hard work and determination and that little sprinkling of gold dust talent. Talent of course is the one thing that I – or any other author – can't possibly teach you in any workshop.
But a workshop can point, out the important things – things like:
It's all about the characters – let the drive the story and direct the action
The emotional journey of your hero and heroine is what your reader wants to read.
You need to start at a point of change, when your characters' lives are moving in new and unexpected directions.
Always, always consider the question WHY – why has he done this or she done that? Why does she believe this . . . Why does he want that.
I always start from the basics – like just what is a romance? It's amazing the number of people who come to a workshop and they have either never read a romance or if they have read any books published by Harlequin, they were novels that were published 15 or so years ago. To answer the question – which I was asked – how have romances changed in the past 15 years , I tend to ask another question. How has society changed in the last 15 years? It's the same with the books.
I like to have fun at a workshop so there are always some great Snoopy cartoons on display. Snoopy thinks he's a great writer – Dogstoyevski – so a lot of his thought s on writing tell real truths about trying to create a story as well as making everyone laugh. And of course there are always lots of images of 'inspiration' for my heroes in particular – Hugh Jackman in a towel anyone?
I still come up against the idea that there are lots of 'rules' for writing category romance – so I have a flip chart page labelled Kate's Rules – and it has just one line on it – Write the best story you can in the best way you can (and forget about the rules).
The Ashby library workshop was a busy one. It was sold out from the day before but when people turned up at the door we managed to cram in another five or six people and luckily I had handouts and pens for everyone. We even had one lone man who came along – but I don't think he realised quite what we were running a workshop on, because he disappeared at half time and was never seen again! But I have had plenty of male writers who've stayed.
My special thanks go to Emma Prideaux the librarian in North Lincolnshire who organised the workshop and planned all the publicity – no easy task when right in the middle of plans, the local newspaper suddenly stopped appearing every evening and started to appear only once a week! But Emma did a great job and she stayed through the whole of the workshop too. (That's Emma with the dark hair and the turquoise top in the photo of my audience.)
The success of a workshop can always be judged by the response of the people attending – and considering that this workshop was supposed to last from 11 am – 1pm but everyone stayed at least until 2pm another full hour asking questions and discussing what we'd talked about – I think that's a great measure of their enjoyment and satisfaction. I know I enjoyed myself – and it was lovely to 'come home' to my old working ground in my newer persona as successful romance novelist.
I did  the 'coming home' bit again last  weekend when I ran another workshop – this time as part of The in Haworth West Yorkshire. I grew up in Yorkshire and often used to visit Haworth where the Bronte sisters lived and worked – and dream of being a writer myself. On Saturday, I went back  back to talk about writing romance and about writing my latest book – The Return of The Stranger and how it was inspired by Wuthering Heights. And did  both events in the buildings so connected with the Bronte Sisters all those years ago.  It made me really feel I'd achieved that dream.
Yes, dreams really do come true. So if your dream is to be a published writer, then grab at the opportunity that New Voices gives you – be brave, take your courage in both hands and submit an entry. Yes, it's nerve-wracking, yes you face possible rejection – but one thing's for sure – you'll never ever get accepted if you don't jump in and try. I remember how it felt all those 25= years ago – and I'll let you into a secret, I still feel that same rush of terror whenever I press send even now.
So be brave – do your best – and I'm wishing you the very best of good luck with your entries. And if you do ever come to one of my workshops, please come up and say Hi and introduce yourself.