Jennie Lucas on Tamed: The Barbarian King – the Second Book of the "Dark-Hearted Desert Men" Series
by Jennie Lucas, author of Tamed: The Barbarian King (Harlequin Presents, May 2010, Dark-Hearted Desert Men miniseries)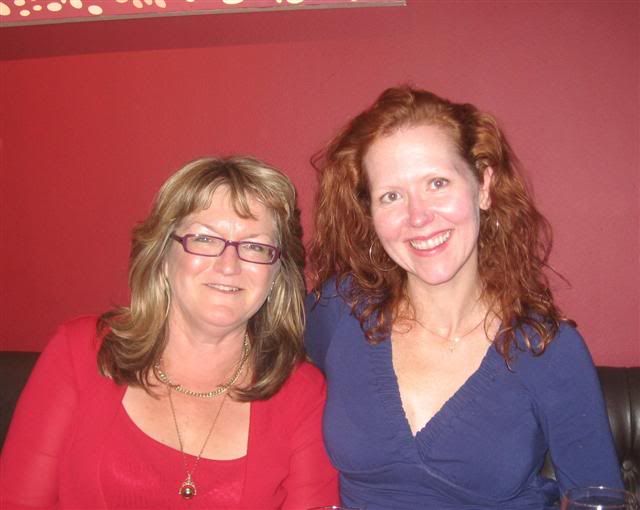 Here's a picture of me with one of my co-conspirators, taken in London in 2008 – that's Trish Morey on the left.
Last month, Carol Marinelli's book, Wedlocked: Banished Sheikh, Untouched Queen, told the story of a king who discovered he was not the trueborn heir of Qusay. This month, The Dark Men of the Desert series continues as his three royal cousins are forced to decide who will take the throne!
My hero is the eldest, Kareef Al'Ramiz.
It was fascinating to write the story of a powerful man – a half-barbarian sheikh just returned from the desert – who knows he loves and wants only one woman, right from the very first page.
After thirteen years in New York, Jasmine has returned to Qusay to marry a wealthy older man for the sake of her family. That makes her absolutely forbidden to Kareef, as is his knowledge that he must marry a virgin princess who can give him an heir. But as honorable as Kareef is, how can he surrender Jasmine to another man's possession? Especially since they share a secret that could destroy everything for them both….
I loved writing this book, especially since it meant working with Carol Marinelli, Trish Morey and Annie West. They are so great!
While writing Kareef and Jasmine's story, I drew a map of Qusay just for fun. For various reasons related to Annie's plot, we ended up turning this map upside down, so it's not really accurate anymore (and I'm not sure how much the other girls really used it anyway), but I thought you might get a kick out of seeing it!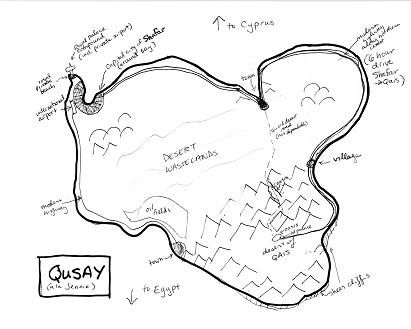 The fictional desert island kingdom of Qusay (just turn it upside down *g*)
Like Carol, I am eagerly awaiting the final two books in the series, Forbidden: The Sheikh's Virgin by Trish Morey in June and Scandal: His Majesty's Love-Child by Annie West in July. I am dying to see how it all turns out, and see if all four sheikhs have happy endings – and are ultimately tamed by the strong, loving women they deserve.
Happy reading,
Jennie