The Truth is Out About Melanie Milburne and More on "The Venadicci Marriage Vengeance"!
by Melanie Milburne, author of The Venadicci Marriage Vengeance (Harlequin Presents Extra, February 2010)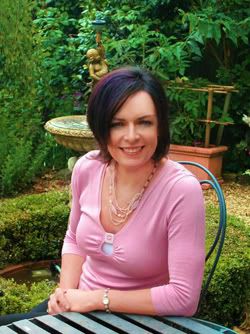 I don't know about you, but I just love being right. I stick to my guns and fight tooth and nail…er…the ones I have left after writing my current work in progress that is! Sorry about all the clichés but there you have it–the truth is finally out: Melanie Milburne can be a little stubborn at times. Actually, I prefer to think of it as persistence and determination. After all, that's how most writers become published in the end, right?
My heroine Gabriella St Clair is also rather stubborn and finds it hard to admit to her mistakes. And let me tell you she has made plenty. The first was to marry the wrong man. Deep down she knew she shouldn't go ahead with it, but the weight of responsibility was like a yoke upon her shoulders (ouch, another cliché!) and she didn't see how she could get out of it without letting her family down and of course wasting an obscene amount of money. You know how much society weddings cost, well, come to think of it any wedding!
Seven years ago my hero Vinn Venadicci came back to Australia to find Gabby about to marry Tristan Glendenning, a man he hated with a passion and for good reason. But Gabby wouldn't listen to Vinn. She considered him to be nothing but the bad-boy son of the St Clair housekeeper, even though she was shockingly, shamelessly attracted to him. That one stolen kiss the night before her wedding more or less proved that. But if anything it sent her hurtling all the faster into the disaster that awaited her…
Oh, how wise we are in hindsight. I look back on my life and think of how I would do so many things differently if I had my time again. I am sure most of you do too.  I guess it's just part of being human, we're not perfect and we make the odd mistake, some more than others.
Gabby has to save her family from financial ruin and Vinn is the only person who can help her. Ironic, huh? The only person in the world who can help her is the very last person on the earth she wants to see… or does she?
Of course their first face to face meeting after seven years is full of crackling tension. Vinn sees an opportunity to get Gabby right where he has always wanted her: in his bed. And yes he is ruthless, and rich and spine-tinglingly gorgeous. But it will take a while for Gabby to tell Vinn why she did the things she did and how dearly she has paid for her mistakes since.
I loved writing this story as the characters were so strong–both of them. Gabby is feisty and proud and yet soft and vulnerable underneath and Vinn is so irresistibly male–the quintessential alpha leader and protector. I loved pitting them against each other, watching as they locked horns (cliché!) and lips and other bits!
So, what about you? Are you stubborn or a bit of a pushover? Do you readily admit when you've made a mistake or does it take you a while to come round to eating humble pie? Cliché!  Or do you absolutely never admit when you are wrong?
I look forward to reading all of your comments.
Mel Milburne