Kate Hewitt on Memories and the Making of The Greek Tycoon's Reluctant Bride
by Kate Hewitt, author of The Greek Tycoon's Reluctant Bride (Harlequin Presents Extra, February 2010)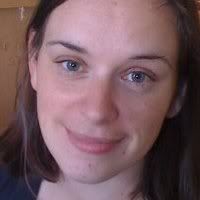 One of the questions I'm asked most as a writer is: where do you get your ideas? There's no easy answer to this question because ideas come haphazardly, from various places. Some books start with a character, or a bit of dialogue, or a snippet of a scene. Some ideas fall wonderfully, fully formed straight into my head–that happens rarely though, alas! In the case of The Greek Tycoon's Reluctant Bride, the idea or the story came from a place–and a memory.
It was the summer of 1994, and I was traveling around Europe with some college friends (and my two brothers who kept an eye on me) after spending a term in London studying Shakespeare. We'd been making our way through Eastern Europe, and on a youthful whim decided to take a flight to Athens from Budapest. However, after only a few hours in hot, dusty, crowded Athens, my brother suggested we take a ferry from nearby Piraeus out to the Cyclades Islands. And with the insouciance of a 20-year-old, I said farewell to Athens without so much as glimpsing the Acropolis.
We took a city bus to Piraeus (picture standing for nearly an hour on a crowded bus in the height of summer, wearing a 40 lb backpack!) and ended up by the Piraeus docks at around ten o'clock at night. And let me tell you… that moment was magical.
After enduring the heat and dust of the city, the air was cool and fresh, and the ferry boats were all preparing to sail. The sky had turned violet and the boats were strung with fairy lights; ferrymen were shouting out unknown and alluring destinations in desperate attempts to entice travelers such as ourselves onto their boat. We hurriedly bought some bread and cheese at a stall and jumped on the nearest boat. It happened to be sailing for Naxos.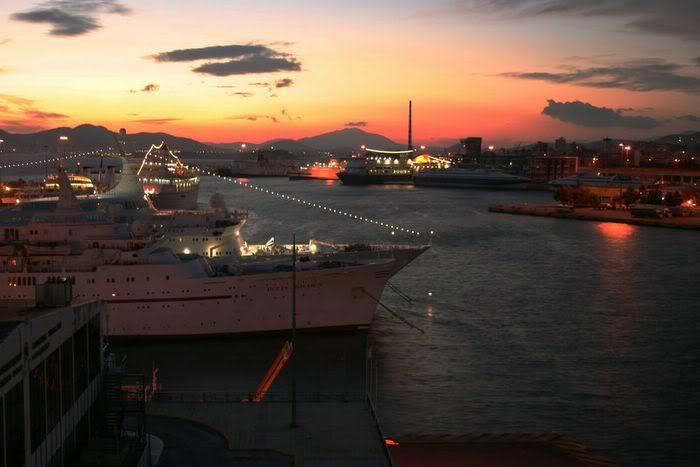 Piraeus
As we pushed off from the dock, the lights strung across the boat were reflected in the dark water, so the whole world looked as if it were glittering. Standing on the deck, I felt a bit like Odysseus.  The world seemed full of adventure, as if anything were possible, and it was that memory that inspired The Greek Tycoon's Reluctant Bride. I capture a little bit of that memory in a scene in the book:
The air was salty and surprisingly fresh, and the voices of the ferry sailors carried across the water.

'Mykonos! Mykonos at eleven o'clock!'

'Amorgos! Ten o'clock! Leaving now!'

They were raucous siren calls, Althea thought, to places she'd never been but which sounded exotic, exciting. They reminded her of that first freedom she'd felt on the research ship: the endless expanse of water, the wonderful possibility of being something new, of being herself.

She hadn't been on a ship since.
Althea, the heroine of The Greek Tycoon's Reluctant Bride, has been held back by the tragic circumstances of her life, and marrying Demos Atrikes offers her a chance at opportunity and possibility and even hope. This idea emerged directly from that poignant memory of my own life, when I was young and adventurous and my whole life stretched before me as I stood on the deck of a ship sailing to an unknown destination. That scene in The Greek Tycoon's Reluctant Bride, when Althea first begins to realize what Demos can offer her, is really the touchstone of the book.
What makes a memory stand out in your mind? Do you remember certain details about how you felt, or where you were, or what someone said? Maybe a certain scent or taste takes you back to a particular poignant memory? And have you ever had a memory really encapsulate an idea or time of your life? Tell me about it!