Presenting the Perfect Pool…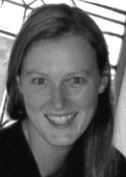 by Natalie Anderson, author of Bought: One Night, One Marriage
One of the things I adore about writing and reading Presents is the wish fulfillment aspect – the fantasy, the escape, the indulgence… and I don't mean in terms of the passion, I mean how these characters get to enjoy the kind of lifestyle that I can only dream about!
Actually, I do a lot of this dreaming in the shower – indeed my husband despairs at the length of time I can stand in a hot shower and frequently knocks on the door pretending to be 'the man from the council' coming to turn the mains off because I've used up our annual limit… But there's something magical and inspiring about water – the sound of it, the feel of it on your body, the beautiful blue of a large expanse as it reflects the sky… pure paradise.
So one thing that I love to have in a book is an 'I've-died-and-gone-to-heaven' sort of swimming pool. Now this isn't completely self-indulgent of me – I think that swimming fits with my kind of hero and works well with some of the attributes I like to give him, for example:
he's fit, with the kind of all-over-body strength that swimming gives (and I do have a thing for broad shoulders)
he's self-disciplined and highly motivated (up early every morning and diving in regardless of the weather, or the late night or whatever)
he's competitive (often in an individual rather than team-based sense)
And then there's that sort of whole body sensuality when in the water – that freedom that comes with floating and being weightless (oh to be more weightless!). And of course, there's the revelation of skin (and sometimes 'self') as they strip down and plunge in.
When I was writing Bought: One Night, One Marriage, I knew there were some key scenes that would take place by (and in) the hero's pool.
I wanted to be able to visualise it clearly and I needed this pool to be something else.
Naturally, as part of a diligent research process, I spent several days surfing the internet in the quest for the ideal image. Finally I found the perfect pool – well, ok the perfect view. Blake lives a little out of town along the coastline of Sydney in a mansion complete with pool house and luxurious privacy. This is what I came up with: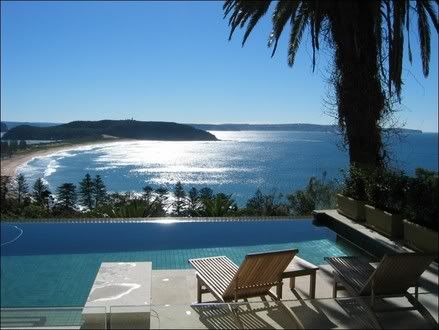 Oh my heart beats faster every time I see it! But what do you think? Could you cope with the idea of spending some time there??? How about another angle to help you make up your mind?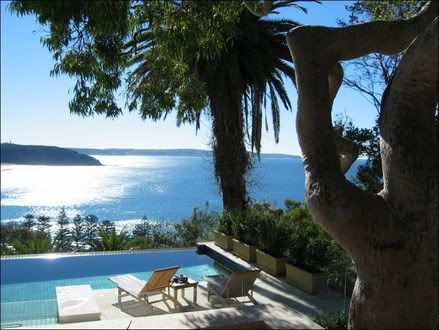 (By the way, this is a real home in Sydney and you can rent it if you want through www.perfectplaces.com).
Now check out the cover of Bought: One Night, One Marriage – I can't tell you how thrilled I was to see the pool there – and I think the art department did a wonderful job of capturing the style – don't you agree?
So what was my heroine Cally to do when her bedroom overlooks the water and every morning she wakes to the sight and sound of Blake swimming first thing – au natural – I mean, can you blame her if she watches for a while… and maybe gives in to temptation? Wouldn't you??!
I'm constantly on the search for more unique and wonderful water play areas – bathrooms are a whole other topic – and I've given one hero, Luca, a lap pool with an adjustable floor (no joke!) in the basement of his central London apartment. (You can check it out in Between the Italian's Sheets to be released in the UK next year). There is a company that will do this – and there's a wonderful apology on their website about lack of portfolio photos because of privacy restrictions from their well-known, well-heeled clients.
And we can always go beyond pools too – how about a private stretch of beach, or a waterfall, or a lagoon, or hey, why not a whole private island?
My 'real-life' fantasy would be to have an in-ground pool with a decent length lap lane and then a splash/play area built to the side. I'd be in it every day. I found a perfect example in a brochure recently but alas it was for a hotel-sized serviced apartments complex, not a private dwelling. I'm not desperate to have a spa, but where I live the pool would have to be heated for year round enjoyment. Of course I'd then want someone else to come clean and maintain it, and maybe someone else to provide me with fresh pineapple juice and fruit salad, and maybe yet another person to tend to the magnificent lawns and gardens surrounding the water… hmmm… definitely dreaming aren't I?!
What about you, have you got any pool fantasies you care to share?