by Malle, Digital Team Member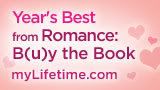 Harlequin Presents author Sandra Marton's novel, The Spanish Prince's Virgin Bride, has been awarded "Year's Best Series Romance" from Romance: B(u)y the Book at LifetimeTV.com.!  You may view the full 2007 "Year's Best" Romance Novels feature here.
Michelle Buonfiglio said, "I very seriously considered hundreds of submissions this year, and featured less than 50 in exclusive RBTB review and interview or on-camera interview packages.  The 13 books I chose as 'Year's Best' are the crème de la crème of the books I read in 2007."
Congratulations to Sandra! What a way to start 2008!
 
 
The Spanish Prince's Virgin Bride is also available as an eBook. And there is a free eBook giveaway everyday at eHarlequin.com until January 1 — if you've never tried an eBook, here's your chance to do so for free!